Instead of focusing on the fact that today I would be 17 weeks along and would be going for our big ultrasound this week (to find out the gender), I will focus on the good and tell you about our fun date last night!
The restaurant was super nice, yet still cozy enough to enjoy ourselves. The first time we were there was last June, on a stop during Beer Week in Athens.
It's actually located in Nelsonville, so it worked out nicely to stop on our way home. We sat at the bar and made friends with the Jamaican bartender and his girlfriend, who Matt actually kept in touch with for a little while! (Not in a wierd way) We had so much fun talking about Jamaica because we had our trip scheduled for the following month, so we got a nice little taste of what to expect!
Marsden was still working the bar when we walked in last night. The restaurant is part of a culinary school that attracts people from all over the world, so it's like being on a cruise ship! Everyone's nametag says where they are from and most of them are not from Ohio:)
The band was getting set up when we sat down and by the time we got our drinks, they had started playing. This probably sounds very sophisticated, but let me add that we sat next to a table of Prom go'ers who made me giggle throughout the whole dinner. They were very obviously excited, but trying to play things cool with each other... it was really cute. The restaurant is located on a historic square with pretty trees, benches and a fountain, so there were lots of other prommers taking photographs while we waited for our dinners and caught up on the happy things we have going on in our lives.
Dinner was yummy. I had a New York Strip with Whipped Olive Oil potatoes, snow peas and the cutest little mini carrots I've ever seen! They were like baby carrots, only with the stems. Matt had Morroccan Squobb... which is some sort of Cornish Game Hen type creature. He liked it. (I was a little creaped out by it... and the prom girls thought it was looking at them, lol)
I think my favorite part of the meal was when our server brought the check, along with 2 chocolate dipped strawberries! How neat is that?!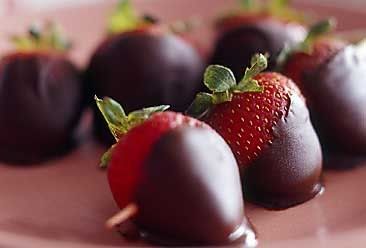 I was tempted to feed Matt his, but he quickly nixed that idea, hehe. Of course I had to ruin the romance when I took a bite of my strawberry and what was left looked like a hoo ha:) Which I of course had to announce:) When we were at this place for Beer Week, they gave us a couple truffles that looked like nipples! If you ask me, I think this is one sexually charged restaurant!
At the end of the evening, I realized how different our lives are when it dawned on my that we didn't take any photos of our fun night. We used to photograph EVERY outing, event... everything! Now it's just nice to be together and not worry about ruining the moment to take a picture.