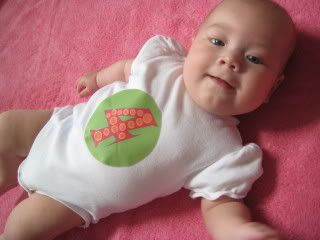 Happy 4 months, Lillian!! A little story from your big day...
Today you went to Sunday School, but got babynapped by Lori and spent the hour out mingling throughout the church while Daddy and I had a nice little lesson on forgiveness. You loved your time with Lori! Once you woke up in her arms, you were ready for a diaper, so I took you to the nursing room to get you changed. Well, Miss Lilly, as soon as I opened your diaper you proceeded to tinkle everywhere! I could count on one hand the number of times you've done this, which is why I was not expecting it! Unfortunately, I hadn't brought the diaper bag with us, only the changing pad, a diaper and the wipes. So, I cleaned you up, fluffed your dress, turned a cheek at my wet pantleg and back into church we went.
You see, honey, I knew it was time to eat, so I wasn't expecting anyone else to hold you.
Especially not your pediatrician.
But when he turned around and put his arms out for you, I didn't know what else to do but hand you over. Your dress was lightweight cotton plaid (and adorable, kid!) so I told myself a) you had dried while eating OR b) your tinkles were at least camouflaged.
Heh.
As I sat back thinking "This is so nice. Here we are, enjoying a great service among our dear friends, the Thompsons, and your doctor (I really need to stop referring to him and his wife as "Lilly's doctor"... he informed me at her last appointment that at church, he's not a doctor. Which must be why he had some dad holding his daughter's eyelid wide open for Dr. A to look at right before church started. I was tempted to rip off Lilly's diaper and say "check out this rash while you're at it, Doc!" Anyway, I digress. So I was sitting there thinking how nice it is to feel so loved and to see others enjoying you as much as we do. I thought it was so nice that you were a little person to him, not just a patient:) So, yes, as I was saying, puppies and rainbows.
And then.
Dr. A turns around and whispers, "I think she has a leaky diaper."
Oh God. Shoot.
I apologized and took her to change into some un-urinated-on clothing. But let me add, Lilly, that you sprung a second leak during your change! What is the deal, kiddo?!
Thankfully, after each of my half-dozen apologies he laughed it off and told me not to worry. Actually his response was "Just wait til she has diarrhea and it goes all the way up her back!" And on that note, honey, since I've now embarrassed you on the internet, allow me to brag a little because you have never once had a blow out. Your poopies stay nice and contained:) Atta girl.