Tonight while waiting for dinner to finish up, Lilly and I went outside to ride her bike. At school the kids have a great little playground with a sidewalk "track" going around the perimeter so they can ride "bikes" (tricycles, Cozy Coupes, ride-on toys, etc.) so apparently this is where Lilly learned the word "bike" because she sure says it a lot at home! "Bike? Side?" (which means "Hey, Mom, I know I've been whining incessantly, but pretttty please can we go outside in the 90 degree heat and ride this blessed bike that my dear Grandparents gave me for Christmas?"
She's just so darn cute, it's hard to resist.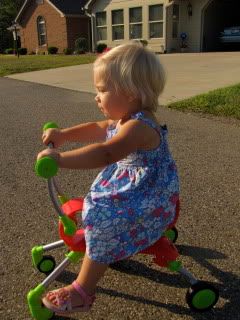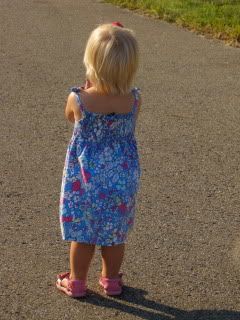 Lilly and Midas know all the hot spots in the neighborhood... who gives out cookies and who doesn't! It didn't matter that dinner was ready, Betty said "It's just a little chocolate chip cookie, Mommy. She's not going to leave without one. Let Grandma go getcha cookie." How can I argue?